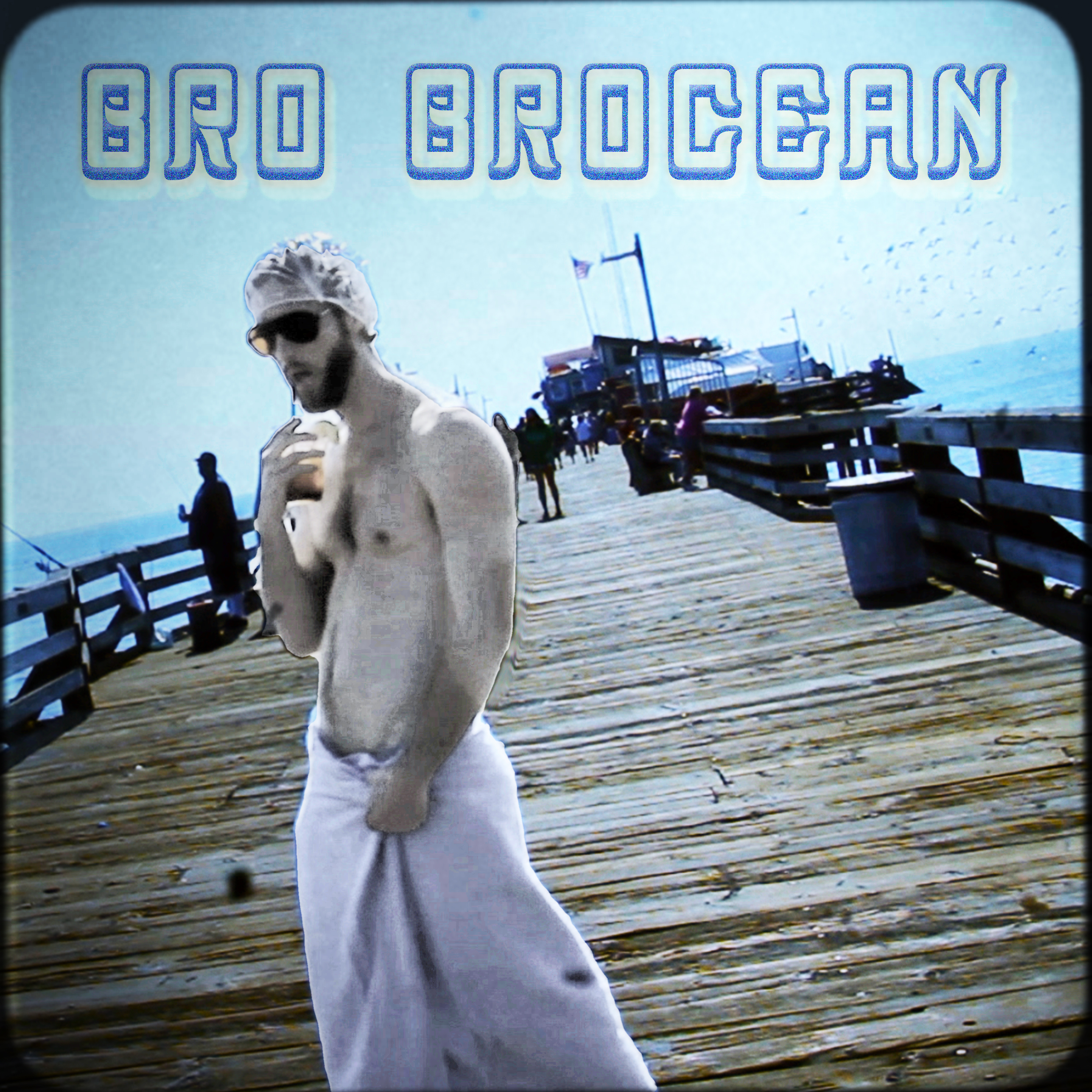 Bro Brocean is a NorCal-based band that performs a wide range of genres most easily summed up as "island jazz pop with a punk edge." The group is filled with incredibly talented young musicians with diverse musical backgrounds. Their frontman, Morgan Wenter combines his humorous lyrics with interesting, catchy melodies that are brought to life onstage with high energy and audience engagement.
Some critics claim that their newest album, "Fresh Wax," is "nearly listenable," while others have even gone so far to call it "decent music." They've headlined Sacramento's Porchfest and entertained drunk people all across the state. So if you decide to see Bro Brocean live, prepare to dance, laugh, and have your face melted off! We sat down with Morgan for an exclusive one-on-one interview…
Tell us about Bro Brocean. Who are the members, and how did you come up with such an unusual name for the band?
We used to get a lot of people mispronouncing our name. I guess they don't always assume that "Brocean" rhymes with "ocean," since most of our gigs are more than an hour drive from the Pacific Ocean.
And honestly, the word Bro Brocean came up as a joke when I was having a bonfire with some strangers on the beach when I was in high school. I forgot a lot from that night, but I never forgot Bro Brocean because of how stupid and funny it was to say out loud. Ever since then I've been trying to name a band Bro Brocean, and I finally found the one!
Our members change from time to time and gig to gig since everyone in the band is also in other projects, but the one consistent member is the frontman and songwriter, Morgan Wenter. I record most of the music myself, but sometimes the other members step into the studio to make it even better. My buddy (and now bandmate) Joe Skandy helps mix it since he's a wizard with that kind of stuff.
Our bassist, Tyler Miles and our drummer Edward Blue joined around the same time. They're good friends and they're pretty involved in the jazz scene in the North State and the Bay Area. More recently, we've had a couple new members join who are heavily involved in the Concord music scene. Joey Nunez plays keys and Joe "Skandy" Skandalaris plays lead guitar. These guys are insanely talented and ridiculously fun to share the stage with.
You are from Sacramento. How has being from northern California influenced the band's music and attitudes?
Some of us live in Sac and some of us live in the Bay Area, so our local fan base is spread across a wide area. California is a super diverse state and it's been a major benefit to us since we're very eclectic. Our live shows can give you music whiplash from bouncing around from one genre to the next. It seems to keep all types of audiences satisfied and it keeps us from getting bored.
We also end up taking all kinds of ridiculous gigs over the years where the audience will pretend like we don't exist unless we play classic rock or country or hip-hop, so our setlists vary to match the crowd. The expectations of an SF crowd are a much than a Fresno crowd.
But California is dope. Yeah rent is high and the covid restrictions curbed our ability to play shows for awhile, but the weather and the general vibe out here is great.
What kind of fan would someone be most likely to find at a Bro Brocean show?
Our die-hard fans are mostly in their mid to late twenties, but I think that might be because most venues we play are 21+. It's always funny seeing newcomers at our shows because I get to watch the shock on their face once we play a song like "OnlyFans," which has some of the most absurd lyrics. Luckily by now, most of our audience is in the joke, so I see more people singing along and dancing than standing with their arms crossed.
Look up our live shows and you see that it's always a party at a Bro Brocean show. Most people end up getting lei'd at our shows, which is a fun tradition. I mean, how are you gonna have a bad time with cheap, colorful, fake flowers around your neck?
Your music has been described as "island jazz pop with a punk edge." Who are the band's influences, and how did they come together to form such an unusual blend?
Every Bro Brocean EP and LP is a totally different style. We've been compared to Ween for that reason, but they aren't a big influence on us. It's not that we're "trying to find our sound," or anything like that. We just like giving people a buffet instead of a single entree.
The Crystal Mama EP from 2019 was influenced by a lot of old Motown recordings, as well as newer funk groups like Vulfpeck and Magic City Hippies. The new album, "Fresh Wax," is influenced more by pop-punk groups like Blink-182, The Front Bottoms, The Frights, and FIDLAR.
The earlier EPs had totally different influences, but that's what keeps things interesting. At one show, a new fan approached me and said "dude that was Zappa! I heard you singing about titties, that's something Zappa would do!" I was shocked that anyone recognized that there was any Zappa influence. It wasn't directly inspired by him, but I definitely listened to a lot of Frank Zappa growing up. The formula I stole from Zappa is to have goofy, fun, maybe even stupid lyrics performed with excellent musicianship. It worked for him and it works for us!
How important is social media to a band's success? How do you measure success in the first place? What does it mean to be in a successful band?
MTV doesn't play music videos anymore, so I don't think we'd be nearly as popular without people seeing our videos on YouTube. We've gained fans across the globe just from acting ridiculous with a camera. If you haven't seen our music videos, definitely check them out!
I'm pretty active on Instagram and TikTok, and our fans find out about most of our shows from our posts. But if you wanna keep people around, you gotta share your personality with them and be worth paying attention to without just the music. The algorithm also doesn't exactly reward you for just posting a concert flyer.
As far as "success" goes, I don't even know what that means. Music streaming doesn't compensate the artist well and most shows don't pay the artist much once you split the payment among the band. So it obviously doesn't pay that great to be in a band. Luckily for us, we have great merch and great branding so people love to represent. We also all play in multiple groups spanning tons of genres, so we find ways to get more gigs.
I think the cool thing about our group is that people in Sac and the Bay know who we are and they don't forget our name. People who go to our shows know the words to our songs and they're down to come back to see us again and again. It's hard not to feel successful when you have that much love from your fans!
Tell us about your latest album "Fresh Wax." What can listeners expect?
Upbeat, catchy songs with great musicianship, production, and of course, humor. It's a pretty filthy album, so don't play it in front of your mom, but it's a great one to listen to on a car ride, at the gym, or at a party. I knew that we needed some more upbeat songs to play live because people weren't spilling their drinks or falling in heels enough with our earlier music. Gotta keep the shows interesting!
What's next for Bro Brocean? What plans does the band have for the rest of 2022?

The "Fresh Wax" EP was such a big project that I've needed a break to just play shows and get inspired again. This summer, I'll have a chance to finally compile all the snippets of songs that I've been recording on my phone into something coherent. It's such a long process, but it's worth it to have more music to share. And anyone who knows me knows that I take forever to edit videos, so you can expect to finally see that music videos that we filmed months, or maybe even years ago!
Thanks for the interview!