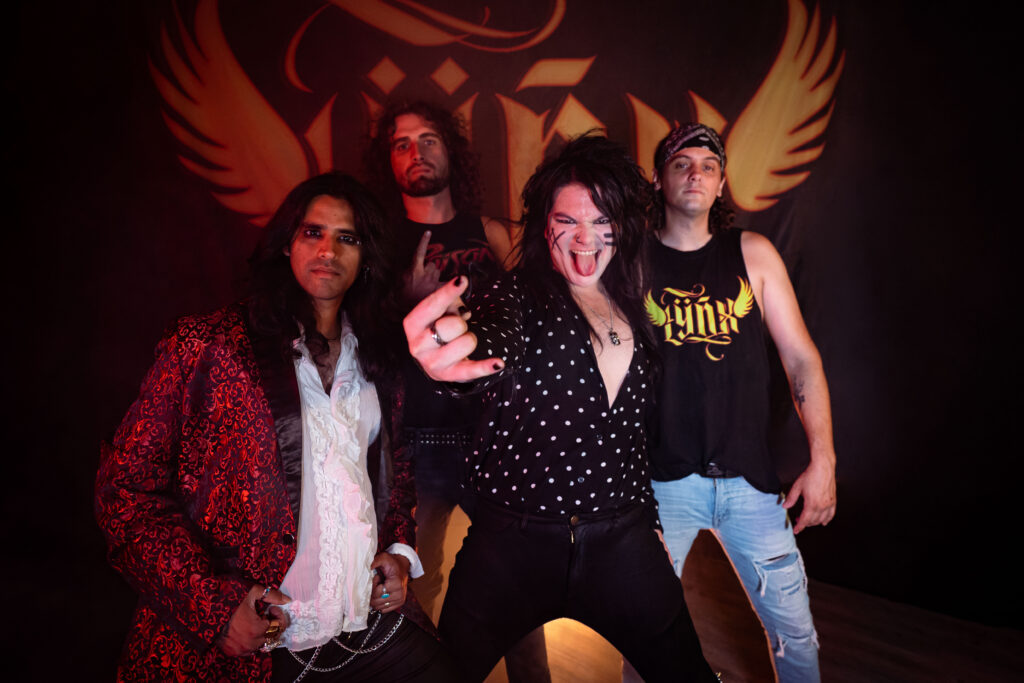 Glam/Sleaze rockers Lÿnx are carrying the classic rock torch from Calgary, Canada to the world. With their brand new EP, "Long Live Rock n Roll," featuring the single, "Shake It Up" and their take no prisoners attitude, Lÿnx is picking up where bands like Skid Row, GnR, and Mötley Crüe left off. We caught up with the band to find out exactly what makes this pussycat purr…
Who is Lÿnx? Tell us about the creation of the band and your members.
Lÿnx (We) are a sleaze rock/glam metal band currently based in Calgary, Canada formed in 2020. It was during pandemic when four rocking dudes got together with a common passion to create some bad ass Rock n' Roll music. We have Blade on Guitar, Fangs on Bass, Ja6ur on vocals, and Flash on Drums
Why Glam/Sleaze metal? Do you feel there is still a market for this 80s – influenced style?
We all grew up listening to Mötley Crüe, Skid Row, Guns n Roses & other legendary 80s rock bands. The 80s were a fun time to be around where music was considered as the golden era of entertainment. Not just rock or metal, even pop, disco, funk – all sounded great!
Hell Yes! Classic rock is classic for a reason, it's still enjoyed to this day! Whether it's the marvel movies or Netflix shows like Stranger things, Cobra Kai – all are going for 80s theme and sound. Rock n roll is still well and alive, and Lÿnx is just taking up the mantle.
What is the music scene like in Calgary?
The scene in Calgary is very broad. There is a heavy influence of Country Music (it's called Cowtown for a reason) but when you get into the scene here you realize there is an amazing Metal community that is very welcoming and creates some amazing music. It's been incredible how much support we've had and we want to continue to grow and help out Calgary as much as we can.
Tell us about your latest single, "Shake It Up". Who wrote it, how was it written, where did you record it?
"Shake It Up" was written and recorded in our Bullzhorn studio. The song was mainly written by our bassist Fangs and co-written by John Hansen. Usually our process goes like this: compose, record, learn, rehearse & perform. This single is an exception as we composed and wrote "Shake It Up" in our rehearsal sessions. It just came quick! It's meant to be a party song, hit you fast and hard, & be played loud! It's everything you need to get the ladies up and moving & keep everyone grooving!
Any touring plans? Favorite places to perform? Largest crowd you've played for?
We plan on doing a small tour and playing shows around Western Canada this year. Our dream is to tour Europe and Asia, one day we hope to get there. Our biggest crowd so far has to be the Decimate Metal Festival in High River Alberta this past summer.
Tell us about your current album "Long Live Rock n' Roll". What do you hope fans take away from it.
"Long Live Rock N' Roll" was initially meant to be a full studio album but later decided as a band to release as an EP. Our first full length studio album is coming soon, currently working on it. Getting back to "Long Live Rock n Roll", as the title says, what we want people to take from this album is that as long as we are playing music, Rock N' Roll will never die! We wanted to homage to those who came before us and inspired us to turn it up to 11!!!
What's next for Lÿnx? Where do you see this band in 5 years?
Within the next 5 years, we plan on releasing as much as possible with the hopes of getting off this content touring. We would love to tour Europe and Asia so that's where our sights are aimed.
What are the band's outside interests, when not playing music?
Ja6ur and Flash are Pokémon nerds and Blade is a movie collectable nerd. Fangs spends most of his free time with his family or getting irresponsibly drunk with Ja6ur.
Good luck guys! See you on the road!
Official website : www.lynxrocks.com

Social & Streaming Links : https://li.sten.to/shakeitup
https://linktr.ee/lynxmusic