Ten Penny Gypsy is a 7-time Arkansas Country Music Awards nominated group. The Little Rock-based act has released a music video for "River N' Me."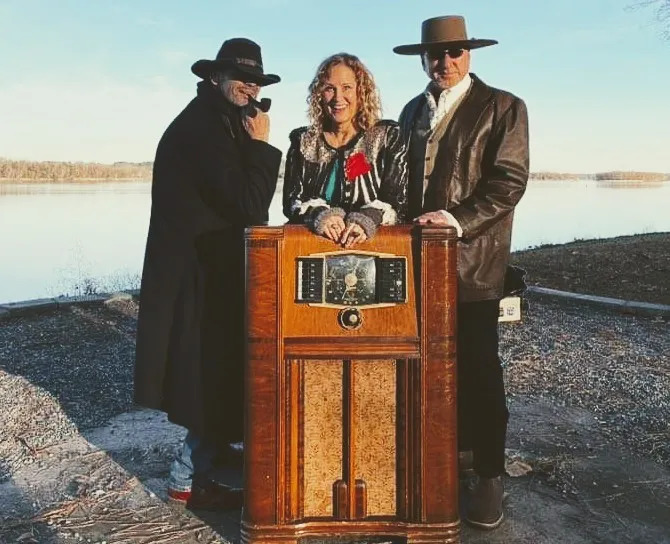 Little Rock-based americana group, Ten Penny Gypsy is known for their down-to-earth and emotionally-charged music. Keeping with the traditions of American Roots music, the band recently released a rustic music video to accompany a stripped-down acoustic toe-tapper, "River N' Me." The song is a studio outtake from the band's critically acclaimed album, "Fugitive Heart," produced by longtime Neil Young guitarist, Anthony Crawford.
Ten Penny Gypsy, working with Sharpe Videography, purposefully filmed the video in black and white, with a reel-to-reel flicker, in order to celebrate simpler times, when the world seemed more innocent and peaceful. The video was shot on location on the Arkansas River.
Watch "River N' Me" at https://www.youtube.com/watch?v=Y6y4hXvFZ84
ABOUT TEN PENNY GYPSY: Arkansas singer/songwriters Justin Patterson and Laura Lynn Danley had been writing and performing separately as solo artists for years when they decided to form the Folk/Americana duo Ten Penny Gypsy in 2016. Following the release of their self-titled debut album in 2017, Ten Penny Gypsy received three nominations for the 2018 Arkansas Country Music Awards: "Album of the Year," "Americana Artist of the Year," and "Vocal Group of the Year." The group has since garnered additional Arkansas CMA nominations for "Americana Artist of the Year" in 2019, 2021, 2022 and for "Vocal Group of the Year" in 2019.
In 2020, Ten Penny Gypsy released their second full-length album, "Fugitive Heart," a collection of original songs once again produced by renowned multi-instrumentalist Anthony Crawford. The album also prominently features the talents of 2021 Arkansas CMA winner Buddy Case (Guitarist of the Year).
The appeal of "Fugitive Heart" is broad. It has spawned a #1 song on the iTunes Country Sales chart in South Africa (Your True You), and videos (Lonesome No More, Making Headway) that have medalled at numerous international film festivals. https://www.tenpennygypsy.com