World music artist DARIA releases uplifting "Earth Day Around the World" compilation featuring rising global artists.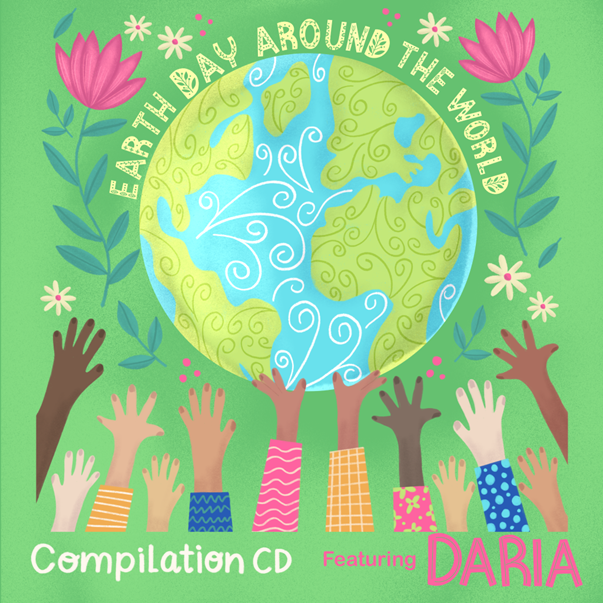 LISTEN
About the Release
Renowned artist DARIA has just released a new compilation album titled "Earth Day Around The World," featuring eight tracks that showcase various genres radiating an overall positive, feel-good aura. The album features collaborations with some of the world's most exciting artists, including Mighty Drop, Elim, Millicent, Daria, and many more.
The album serves as a tribute to our planet and the importance of preserving it for future generations. DARIA believes that music is a powerful tool for raising awareness of environmental issues and inspiring positive change. "Earth Day Around The World" is her contribution to this cause, aimed at inspiring listeners to take action and make a difference.
The compilation features a diverse range of styles, from upbeat pop to reggae-infused beats, reflecting the global nature of the album's message. Each track has a unique sound, but all share a common theme of environmental consciousness and positivity. The compilation also features some of DARIA's own music, showcasing her talents as a singer, songwriter, and producer. In all, the album was a collaboration of over 20 artists from 5 continents with songs in 7 languages.
DARIA hopes that "Earth Day Around The World" will inspire listeners to take action and make a positive impact on the planet. The album is now available on all digital streaming platforms, making it accessible to audiences around the world. DARIA's music is a powerful reminder of the importance of taking care of our planet, and this album is a testament to her commitment to making a difference.
About DARIA
DARIA (Daria Marmaluk-Hajioannou) is a performer, songwriter, folksinger and ethnomusicologist with four decades of contributions to folk music and popular family music. Many of her songs like "I Have A Dream", "Beautiful Rainbow World" and "The Earth Day Song" have been used as anthems for social justice, inclusivity and stewardship for the Earth long before these concepts became part of the public discourse.
Pioneer of the genre of "World Music for Children", Daria is also known for the bilingual translations of popular folk songs in languages including Spanish, Quechua, Yiddish, Ladino and several others. Her bilingual family-friendly version of La Cucaracha is recognized as a viral kids music hit on Youtube with almost 7 million views.
Along with her new versions of folk songs from world cultures, Daria's "I Have A Dream" Song is used widely to celebrate MLK Day. Her Earth Day anthem is used in over a dozen different countries around the world. Her "Beautiful Rainbow World" song is used in Australia as part of a "Respecting Others" curriculum, in South African schools as part of a "Teach Tolerance" initiative and in a recent book – BEAUTIFUL RAINBOW WORLD – that features dazzling images of multicultural and mixed race children from around the world. Her song based on the Muslim Greeting, "Assalam Aleykum" is used internationally to encourage religious tolerance and fight Anti-Islamic hatred.
Her live performances include representing the United States at World Expo 92 in Seville Spain, appearances in 16 countries at festival, fairs, museums, cultural centers and schools. Most recently, DARIA performed in Iceland at the main library of Reykjavik and her educational TeachersPayTeachers site received a Parent And Teacher Choice Gold Award.
A fierce advocate for indigenous rights and civil rights for all, Daria was born in the USA, but raised in rural South America. She has won over 2 dozen Parent's Choice Awards, educational and children's music awards and has been nominated for a Grammy.
Follow DARIA – Instagram Facebook Twitter